Fortinet Solutions: Intelligent and Collaborative Approach
Leverage a security-driven network with the Fortinet Security Fabric to simplify protection of the entire attack surface without compromising performance.

The FortiGate/FortiWiFi 40F series is an SD-WAN solution that provides security, scalability, and application focus in a compact fanless desktop form factor suitable for mid-sized businesses and corporate offices.
This solution offers protection against cyber threats, with single-chip system acceleration and best-in-class secure SD-WAN, in an easy-to-deploy, affordable, and effective package. 
Fortinet's network security-oriented approach ensures solid network integration with the new generation of security solutions.
firewall available for purchase or lease
The FortiGate/FortiWiFi 40F solution ensures security against cyber threats, with single-chip protection and the best secure SD-WAN on the market. In addition, it is an easy-to-deploy and affordable solution. Fortinet's network security-oriented approach ensures solid network integration with the latest security solutions.
About the FortiGate 40F, FortiWiFi 40F
The solution identifies thousands of applications on the network, enabling deep inspection and enforcement of specific policies. It also protects against malware, exploits and malicious websites in both encrypted and unencrypted traffic.
The solution is also capable of detecting and preventing known attacks, using continuous threat intelligence from FortiGuard Labs security services with AI. To block unknown sophisticated attacks in real time, the solution uses FortiSandbox integrated with AI from Fortinet Security Fabric.
Processing power: Fortigate 40F is a next-generation firewall designed to deliver high network and security performance. With a firewall throughput of up to 4 Gbps, it can handle large volumes of network traffic without affecting protection speed or effectiveness.

Security Features: The Fortigate 40F is equipped with a number of advanced security features, including advanced threat protection, content filtering, SSL/TLS inspection, data loss prevention, and more. These features help ensure that your network is protected against all known and unknown threats.

Centralized management: The Fortigate 40F comes with a centralized management console, which allows you to monitor and manage multiple instances of the device from a single interface. This makes security management easier and more efficient, especially for companies that have multiple branch or remote offices. In addition, Fortigate 40F also supports integration with other network management tools, such as FortiManager, for even more streamlined management.
Tested and Validated Security: Fortigate 40F features improved security effectiveness and performance that has been independently tested and validated. This means that network security is reliable and effective, ensuring that threats are detected and neutralized quickly and efficiently.

Unrivaled Third-Party Certifications: Fortigate 40F has received unrivaled third-party certifications from NSS Labs, ICSA, Virus Bulletin, and AV Comparatives. This shows that the network security is of high quality and meets the standards required by these independent organizations. With these certifications, users can trust the effectiveness and quality of Fortigate 40F in keeping their network safe and secure from threats.
Simplified Management: SD-WAN Orchestration offers an intuitive interface for centralized management and provisioning of business policies in a few easy clicks, providing greater agility and operational efficiency.

Rapid Deployment: With Zero Touch provisioning, the deployment process is accelerated, making it suitable for large and distributed infrastructures, with less time and effort required for configuration and maintenance.

Automated VPN Tunneling: SD-WAN enables flexible hub-to-spoke and full-mesh deployment at scale, providing bandwidth aggregation and encrypted WAN paths. All this without the need for labor-intensive, manual configurations.

Compliance and Security: Pre-defined compliance checklists analyze deployment and highlight best practices to improve the overall security posture, ensuring that security policies and configurations comply with the company's security and regulatory requirements.
Simplified Management: The Fortigate 40F features a powerful and simple-to-use management console that provides comprehensive network automation and visibility. This means you can easily manage all aspects of the network and ensure a more efficient and secure operation.

Zero Touch Provisioning: With Fabric Management Center technology, the Fortigate 40F offers zero-touch provisioning. This enables faster, more efficient deployment without the need for time-consuming manual configurations. Everything is managed from a single management dashboard, making it easy to administer the entire network.

Compliance and Security: To ensure that security policies and configurations comply with your company's security and regulatory requirements, Fortigate 40F features pre-defined compliance checklists. These review the deployment and highlight best practices to improve the overall security posture, ensuring that the network is always safe and secure.
Integration with Partner Products: Fortigate 40F enables Fortinet and Fabric partner products to provide broader visibility, integrated end-to-end detection, threat intelligence sharing and automated remediation. This means you can take full advantage of integration with other products to provide more comprehensive and effective protection.

Automatic Topology Views: With Fortigate 40F, you can automatically create network topology views that discover IoT devices and provide complete visibility into Fortinet and Fabric Ready partner products. This helps you quickly identify potential vulnerabilities in the network and take proactive steps to ensure network security and integrity.
| | | | | |
| --- | --- | --- | --- | --- |
| Firewall | IPS | NGFW | Threat Protection | Interfaces |
| 5 Gbps | 1 Gbps | 800 Mbps | 600 Mbps | Multiple GE RJ45 | WiFi variants |
(1) 1x USB Port
(2) 1x Console Port
(3) 1x GE RJ45 WAN Port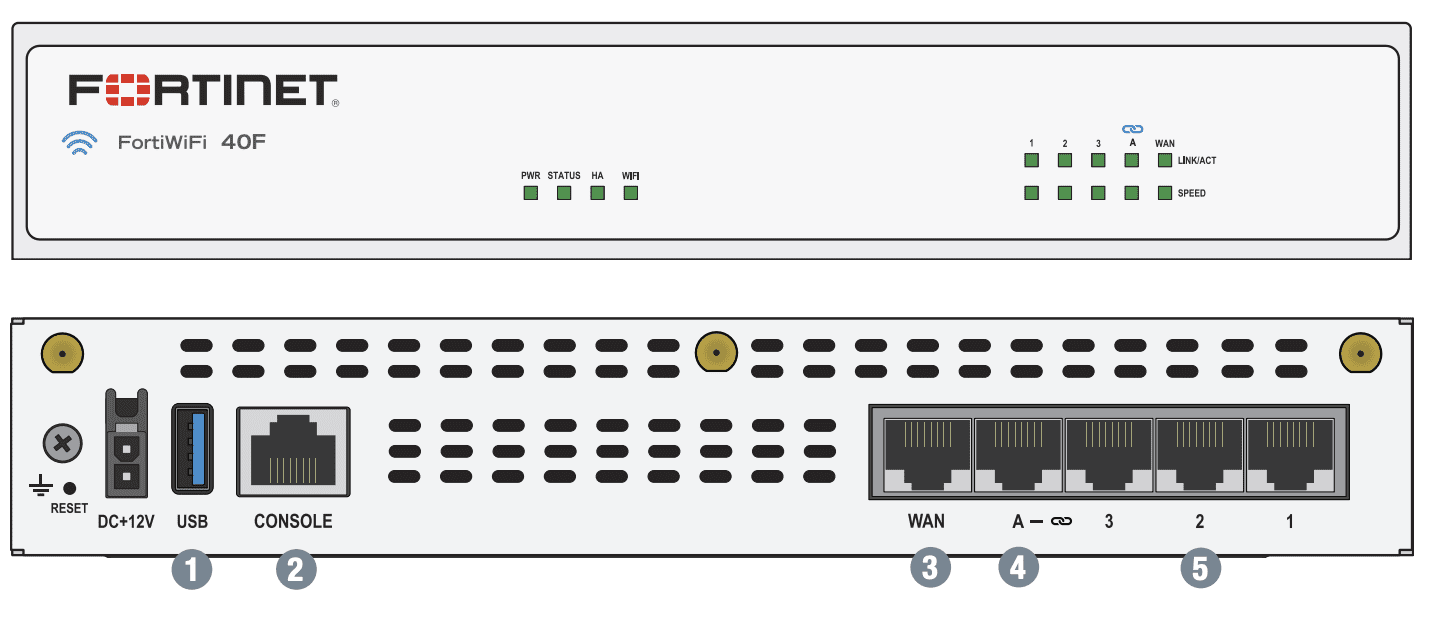 (4) 1x GE RJ45 FortiLink Port
(5) 3x GE RJ45 Ethernet Ports
Security and Network Integration: With the FortiLink protocol, you can integrate security and network access by connecting FortiSwitch to FortiGate as a logical extension of the NGFW. This means that network security is extended to the switches, ensuring that the network as a whole is protected against threats.
Port Flexibility: FortiLink-enabled ports can be reconfigured as regular ports as needed. This allows for greater flexibility in network configuration and makes it easier to adapt the network infrastructure to changing business needs.
Compact and reliable Form Factory
Design for Small Environments: The Fortigate 40F is specifically designed for small environments, allowing it to be placed on a table or mounted on the wall. Its installation versatility makes it suitable for different types of spaces and allows companies to optimize the network configuration according to their needs.
Reliability: Despite being small and light, the Fortigate 40F is highly reliable, with a higher MTBF (mean time between failures). This means that there is less likelihood of network outages due to equipment failure. The reliability of the Fortigate 40F is crucial to ensuring that the company network is always available and running smoothly.
Wireless and WAN extensions
USB Port for Additional WAN Connectivity: The FortiGate 40F series includes a USB port that allows the connection of a compatible third party 3G/4G USB modem. This connection provides additional WAN connectivity that can be used as a redundant link to ensure maximum network reliability.
Connection Flexibility: The USB port on the FortiGate 40F provides connection flexibility, allowing businesses to choose the type of USB modem that best fits their needs and budget. With the USB modem connection option, businesses can increase network capacity, ensuring that a reliable connection is always available.
Dual-Band Coverage: The FortiWiFi 40F includes built-in internal antennas and dual-band access point, providing fast coverage in both the 2.4 GHz and 5 GHz bands. This ensures a reliable and stable connection throughout the wireless coverage area.
MIMO Antenna Technology: The FortiWiFi 40F's MIMO (Multiple Input Multiple Output) antenna technology uses multiple antennas to provide wider and more efficient wireless coverage. This means that the FortiWiFi 40F can support a large number of users simultaneously, without compromising connection quality.
Security Fabric is the cybersecurity platform that enables digital innovations. It provides broad visibility across the entire attack surface to better manage risk. Its unified, integrated solution reduces the complexity of supporting multi-point products, while automated workflows increase operational speeds and reduce response times across the Fortinet deployment ecosystem. O Fortinet Security Fabric covers the following key areas in a single management center:
Security-oriented networking that protects, accelerates, and unifies the network and user experience
Access to the Zero Trust Network that identifies and protects users and devices in real time, on and off the network
Dynamic Cloud Security that protects and controls cloud infrastructure and applications
AI-driven security operations that automatically prevent, detect, isolate, and respond to cyber threats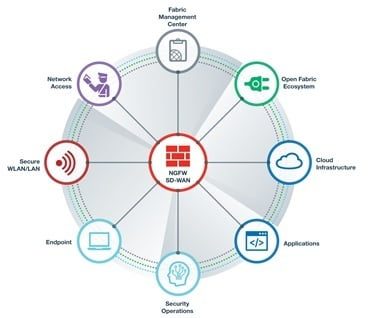 FortiOS is the intuitive operating system that controls all the security and networking features of the FortiGate platform, which is the foundation of the Fortinet Security Fabric. This reduces cost, complexity, and response times by consolidating next-generation security products and services onto a single platform. FortiOS is essential for the complete integration of the FortiGate platform's security features.

Next Generation Firewall (NGFW)
Maximize your return on investment and reduce complexity by integrating threat protection security capabilities into a single, high-performance network security appliance. FortiGate is powered by Fortinet's Security Processing Unit (SPU), which significantly speeds up traffic inspection, allowing security features to work without impacting network latency. This ensures that threats are identified and responded to in a timely and efficient manner, protecting your network from attacks.
Achieve a comprehensive view of users, devices, and applications across the entire network environment and implement consistent security policies across the entire attack surface, regardless of asset location.se against exploitable network vulnerabilities with industry-validated IPS that delivers low latency and optimized network performance
Automatically detects and blocks threats hidden in encrypted traffic using the industry's highest performance SSL inspection, including the latest TLS 1.3 standard with mandatory ciphers.
Proactively blocks newly discovered sophisticated attacks in real time with help from FortiGuard Labs with AI and advanced threat protection services included in Fortinet Security Fabric.

Maintain consistent business application performance with accurate detection, routing, and optimization of dynamic WAN paths.
Quickly adopt SaaS with multi-cloud access and end-to-end optimization for greater efficiency.
Simplify with touchless deployment and centralized management through automatic provisioning, analytics, and reporting.
Strengthen your security posture with a state-of-the-art firewall and real-time threat protection.