Fortinet Solutions: Intelligent and Collaborative Approach
Benefit from a security-oriented network using the Fortinet Security Fabric to simplify whole-service attack protection without compromising performance.

The series FortiGate 40F / FortiWiFi 40F from Fortinet, provides a fast and secure SD-WAN solution in a fanless desktop form factor for corporate branch offices and midsize businesses. Protects against cyber threats with system-on-a-chip acceleration and industry-leading secure SD-WAN in a simple, affordable, and easy-to-deploy solution. Fortinet's security-oriented networking approach offers tight network integration for the next generation of security
firewall available for purchase or location
Cyber threat protection with system-on-a-chip acceleration and industry-leading secure SD-WAN in a simple, affordable, and easy-to-deploy solution. Fortinet's security-oriented networking approach provides tight network integration with the next generation of security.
About the FortiGate 40F, FortiWiFi® 40F
Identifies thousands of applications within network traffic for deep inspection and granular policy enforcement
Protects against malware, exploits and malicious websites on encrypted and unencrypted traffic
Prevents and detects known attacks using continuous threat intelligence from FortiGuard Labs AI-powered security services
Proactively blocks sophisticated, unknown attacks in real time with the FortiSandbox integrated with Fortinet Security Fabric's AI
Engineered for innovation using security processors (SPU) created by Fortinet to deliver industry-leading threat protection and ultra-low latency performance
Offers industry-leading performance and protection for encrypted traffic SSL, including the first firewall vendor to provide TLS 1.3 deep inspection
Independently tested and validated best security effectiveness and performance
Received unparalleled third-party certifications from NSS Labs, ICSA, Virus Bulletin and AV Comparatives
SD-WAN Orchestration provides intuitive and streamlined workflow for centralized management and provisioning of business policies in a few easy clicks
Accelerated deployment with zero touch provisioning suitable for large, distributed infrastructure
Automated VPN tunnels for flexible hub-to-spoke and full-mesh deployment at scale to provide bandwidth aggregation and encrypted WAN paths
Predefined compliance checklists analyze the deployment and
highlight best practices to improve overall security posture
Includes an effective, simple-to-use management console that provides a comprehensive network of automation and visibility
Provides zero-touch provisioning by leveraging Fabric Management Center's single pane of glass management technology
Predefined compliance checklists analyze deployment and highlight best practices to improve overall security posture
Allows Fortinet and Fabric partner products to provide
Broader visibility, integrated end-to-end detection, threat intelligence sharing, and automated remediation

Automatically creates network topology views that discover IoT devices and provide end-to-end visibility into Fortinet and Fabric Ready partner products
| | | | | |
| --- | --- | --- | --- | --- |
| Firewall | IPS | NGFW | Threat Protection | Interfaces |
| 5 Gbps | 1 Gbps | 800 Mbps | 600 Mbps | Multiple GE RJ45 | WiFi variants |
FortiGate 40F/FortiWiFi® 40FSeries Interfaces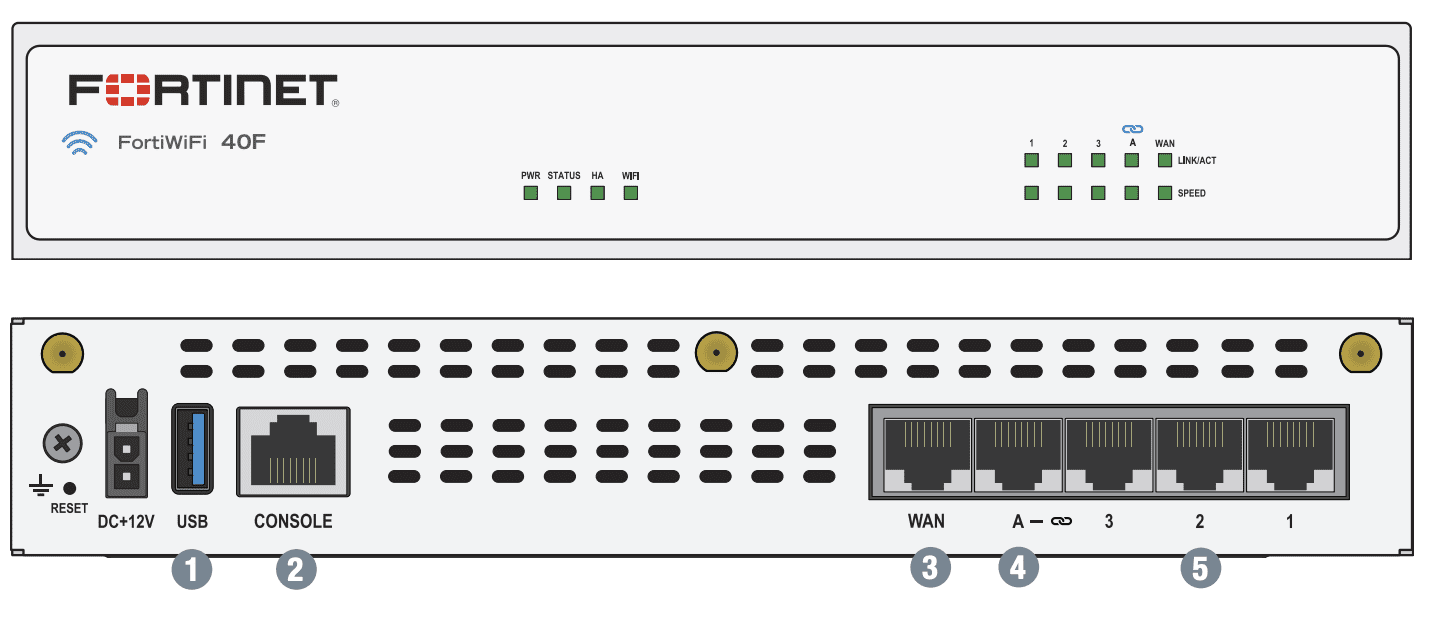 (4) 1x GE RJ45 FortiLink Port
(5) 3x GE RJ45 Ethernet Ports
Extend security to the access layer with FortiLink ports
The FortiLink protocol allows you to translate security and network access by integrating FortiSwitch with FortiGate as a logical extension of NGFW. These FortiLink-enabled ports can be reconfigured as regular ports as needed.
Compact and reliable form factory
Designed for small environments, you can place it on a table or mount it on the wall. It's small, lightweight, yet highly reliable, with a higher MTBF (Mean Time Between Failure) minimizing the chance of network disruption.
Wireless and 3G / 4G WAN Extensions
The FortiGate 40F Series includes a USB port that allows you to connect a compatible third-party 3G/4G USB modem, providing additional WAN connectivity or a redundant link for maximum reliability.
Superior Wireless Coverage
A built-in, dual-stream, dual-band access point with internal antennas is integrated into the FortiWiFi 30E and provides fast 802.11n coverage in the 2.4GHz or 5GHz bands. Dual-band chipset meets PCI-DSS compliance requirements for wireless rogue access point scanning, providing maximum protection for regulated environments.
Security Fabric is the cybersecurity platform that enables digital innovations. Provides broad visibility of the entire attack surface to better manage risk. Its unified and integrated solution reduces the complexity of supporting multi-point products, while automated workflows increase operational speeds and reduce response times in the Fortinet deployment ecosystem. THE Fortinet Security Fabric covers the following key areas in a single management center:
Security-oriented networking that protects, accelerates and unifies the network and user experience
Zero Trust Network Access that identifies and secures users and devices in real time, on and off the network
Dynamic Cloud Security that protects and controls cloud infrastructures and applications
AI-driven security operations that automatically prevent, detect, isolate and respond to cyber threats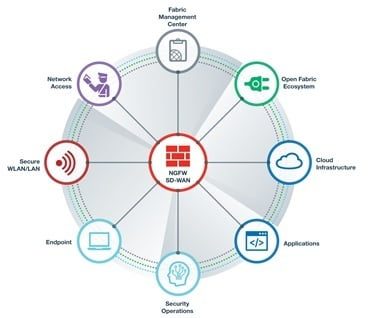 O FortiGate is the basis of Fortinet Security Fabric – the main one is FortiOS. All security and networking features across the entire FortiGate platform are controlled with an intuitive operating system. FortiOS reduces complexity, costs, and response times by truly consolidating next-generation security products and services onto a single platform.

Next Generation Firewall (NGFW)
Reduce complexity and maximize your ROI by integrating threat protection security features into a single, high-performance network security appliance, powered by Fortinet's Security Processing Unit (SPU)
Full visibility of users, devices, applications across the entire attack surface and consistent enforcement of security policy, regardless of asset location
Protect against exploitable network vulnerabilities with industry-validated IPS that delivers low latency and optimized network performance
Automatically blocks threats in unencrypted traffic using the industry's highest SSL inspection performance, including the latest TLS 1.3 standard with mandatory ciphers
Proactively block newly discovered sophisticated attacks in real-time with FortiGuard Labs powered by AI and advanced threat protection services included in the Fortinet Security Fabric
Consistent business application performance with accurate detection, steering and dynamic WAN path optimization
Multi-cloud access for faster SaaS adoption with end-to-end optimization
Simplified with zero-touch deployment and centralized management with automatic provisioning, analytics and reporting
Strong security posture with next-generation firewall and real-time threat protection