FortiClient: Next-Generation Endpoint Security
FortiClient is a client-based software solution that provides a range of security features for desktops and laptops. When used in conjunction with FortiGate, FortiClient provides IPsec and SSL encryption, WAN optimization, endpoint compliance, and two-factor authentication.
Block visibility and control of your software inventory and hardware across the entire security fabric. Identify vulnerable or compromised hosts and track every detail of systems and user profiles on your attack surface.
Integrated Security Network
An integrated endpoint protection platform that delivers automated threat protection across the entire security landscape. Identify vulnerabilities or compromised machines and attack vectors and shut them down in real time.
Fabric Integration
Endpoint Fabric Telemetry
Automated Endpoint Quarantine
Compliance application with dynamic access control
Advanced Endpoint Protection
Anti-Malware Protection
Cloud-based outbreak detection
Vulnerability detection and remediation
Sandbox detection (behavioral zero-day detection)
Web filtering (based on URL category)
Anti-Exploit
Firewall application
Management & Updates
Central Management
Central Logging & Reporting
FortiGuard Updates
Other Features
USB Device Control
Software Inventory
Benefits of Fortinet Integrated Endpoint
Fortinet Security Fabric integration provides endpoint visibility through telemetry, ensuring that all components of the Security Fabric, including FortiGate, FortiAnalyzerEMS, APs managed, Managed Switches, and FortiSandbox - have a unified view of "Endpoints" to provide tracking and awareness, compliance enforcement, and reporting. 
Traditional virtual private network tunnels (VPN) or the new ZTNA automatic tunnels provide secure remote connectivity. 
They provide security and protection for endpoints, whether local or remote.
Endpoint Security - Why do you need it?
Endpoint with advanced threat protection
As a next-generation endpoint protection solution, FortiClient helps connect endpoints to FortiSandbox, which use behavior-based analytics to automatically analyze in real-time all files downloaded to the endpoints.
Millions of FortiClient and FortiSandbox VPN users around the world share information about known and unknown malware with FortiGuard cloud-based.
FortiGuard automatically shares intelligence with other FortiSandbox and FortiClient Endpoints units to prevent known and unknown malware attacks.
EMS Centralized Management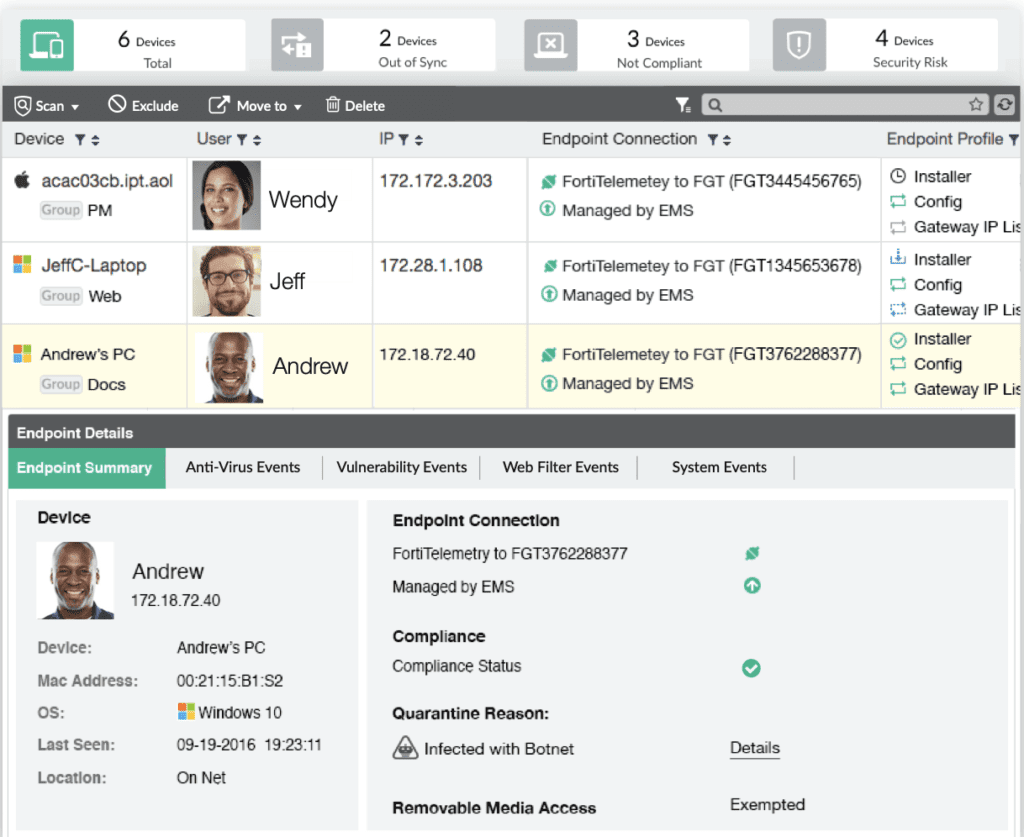 Simple and friendly UI
Remote Deployment
Real-time dashboard
Software inventory management
Active Directory Integration
Central quarantine management
Automatic Group Assignment
Automatic e-mail alerts
Supports custom groups
Remote Triggers
The endpoint security solution is more than just protection against malware or VPN connection. Endpoint compliance and vulnerability detection make it easy for businesses to enforce. FortiClient integrates endpoints into the fabric to detect and prevent advanced threats from the start. 
Deep, real-time visibility into the network so administrators can investigate and report on compromised endpoints in real time.
FortiClient Integrated with Fortinet Security Fabric
Connect endpoints to the security framework for real-time advanced threat visibility and detection.
As a next-generation endpoint protection solution, FortiClient helps connect endpoints to Fortisandbox Cloud, which analyzes files downloaded from a FortiClient endpoint using behavior-based analysis.
By leveraging endpoint automation capabilities, administrators can configure the ability to automatically quarantine suspicious or compromised endpoints to mitigate incidents and contain outbreaks.
By integrating with the cloud - based on
FortiGuard
Global Threat Intelligence based on the latest information from the Fortisandbox Cloud and other third-party vendors - FortiClient automatically detects and prevents known and unknown threats such as malware, viruses and phishing attacks.
O
FortiGuard
not only prevents known or unknown malware attacks and monitors suspicious files and archives from other endpoints, but also shares this information with other FortiSandbox units and FortiClient endpoints to prevent known malware attacks.