Fortinet's FortiGate Firewall is an advanced security solution that provides high-performance threat protection and automated visibility to stop cyber attacks, ensuring business continuity.
Fortinet's FortiGate Firewalls represent the next generation of enterprise network security. With advanced threat protection capabilities, these firewalls are able to identify and block attacks in real time, providing an additional layer of security for the network. In addition, automated visibility technology helps to quickly identify potential vulnerabilities in the network, allowing security staff to take preventive measures to minimize the risk of cyber attacks. 
With the FortiGate Firewall, companies can be sure that their network is well protected against the most sophisticated and emerging threats, ensuring business continuity and protecting corporate data.
Fortinet's FortiGate firewall is an advanced solution that reduces cost and complexity by eliminating the need for multiple security products, consolidating industry-leading features including Secure Sockets Layer (SSL) inspection to ensure full visibility and protection at the network edge. 
In addition, FortiGate is a hybrid firewall, enabling enterprises to provide the best user experience and manage security risks with better business continuity. This is the first solution of its kind for next-generation firewalls and enables a more efficient and cost-effective security-oriented network.
According to Gartner estimates, by 2019, about 80% of enterprise traffic would be encrypted and 50% of attacks targeting enterprises would be hidden in encrypted traffic to infiltrate networks or exfiltrate data. This has made it essential to adopt HTTPS inspection as a requirement to ensure data security and corporate network integrity.
Processing - Secure Processing Units Overview
Fortinet's next-generation firewalls utilize intelligent threat security processors and network security services, created from labs FortiGuard with AI technology, to offer high-level protection, high-performance inspection of encrypted and clear-text traffic. 
O Fortigate reduces cost and complexity with full visibility into applications, users, and networks and provides the best security. 
Fortinet continues to innovate and create new Secure Processing Units (SPUs) to meet one of our key fundamental principles: security devices should never become a performance bottleneck in a network and security architecture, nor should they sacrifice visibility, user experience, or security to achieve required application performance. In short, deliver on the promise of digital innovation.
As an integral part of the Fortinet Security Fabric, they can communicate within Fortinet's broad security portfolio Fortinetas well as third-party security solutions in a multi-vendor environment to share threat information and improve security posture.
The FortiGate next-generation firewall controls the oversized traffic entering and leaving the network. Inspections are performed in real time to ensure that only legitimate traffic is allowed, without compromising the user experience or costly downtime.
NGFWs can communicate with FortiGuard and FortiSandbox services, as well as with other firewalls in the Fortinet Security Fabric. To protect against known and everyday threats and improve operational efficiency through integration with Fortinet Security FabricFortiGate NGFW is integrated with both FortiGuard and its Artificially Intelligent (AI) services.
What does Next Generation Firewall (NGFW) mean?
A firewall is a security device used to protect a network from cyber threats. It acts as a "gateway" between the internal network and the Internet, controlling incoming and outgoing traffic.
A Next Generation Firewall (NGFW) is an evolution of the traditional firewall. It uses more advanced technologies to provide more comprehensive protection against cyber threats.

The NGFW not only monitors incoming and outgoing traffic, but is also capable of examining the content of the traffic, analyzing data packets to detect and block threats such as malware and viruses.

Some common features found in an NGFW include:

SSL/TLS Inspection: allows the Firewall to scan encrypted traffic to detect hidden threats.

Application Control: allows the Firewall to block or limit the use of specific applications that might pose a security risk.

Intrusion prevention: monitors traffic for intrusion attempts and automatically blocks them.

Unified Threat Management (UTM): Combines multiple security features into a single device, making it easier to manage and deploy security.

NGFWs are widely used in enterprises and organizations that need advanced network protection against increasingly sophisticated cyber threats. They help ensure that sensitive data remains safe and secure from security breaches.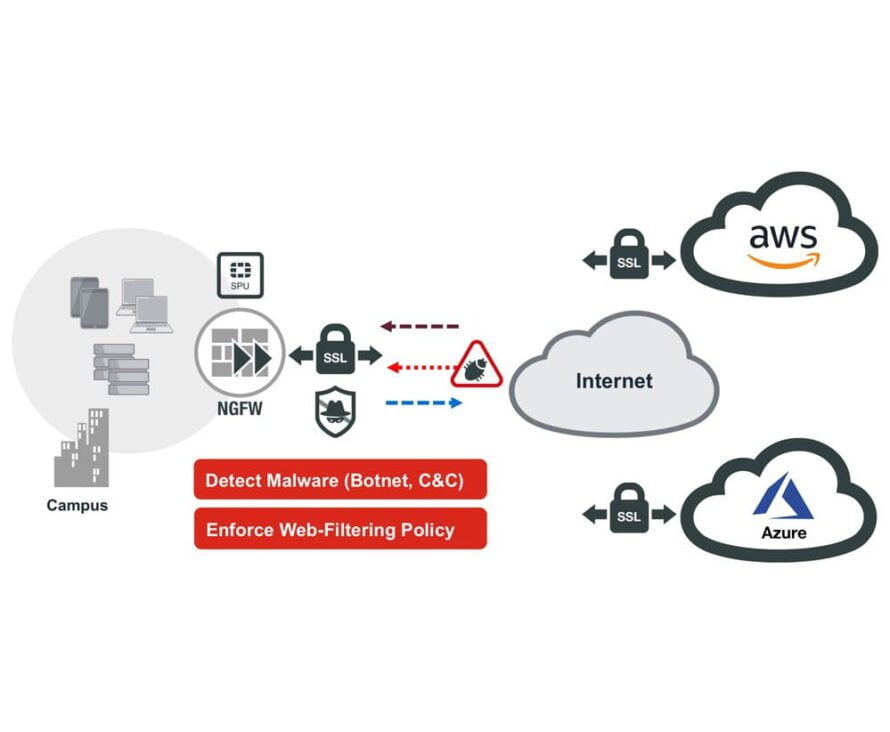 Encrypted Cloud Access
Get a clear, comprehensive view of everything happening on your network by inspecting all types of traffic, from unencrypted to encrypted text. With FortiGate, you can have accurate and efficient policy controls, ensuring the security of your data. In addition, the intrusion prevention system (IPS) allows you to implement additional layers of protection for your network, ensuring security against malicious attacks and unwanted intruders.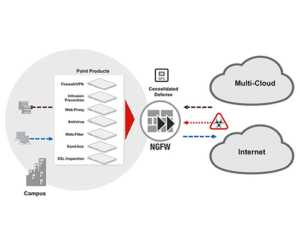 Reduce Complexity
With the evolution of the UTM firewall, it is critical to simplify network protection without compromising security. With FortiGuard Labs, get industry-leading threat protection and quality services, ensuring significant cost savings and maximizing return on investment.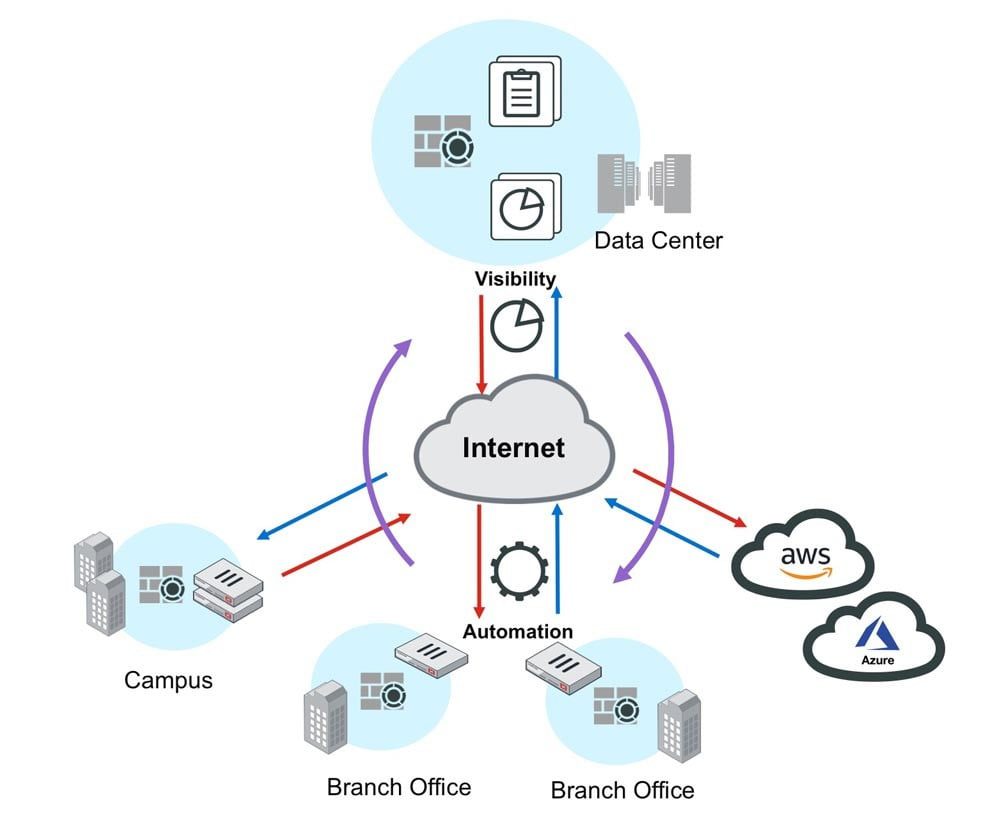 Visibility and Automation
Gain access to network and security events for contextual visibility and streamline operations with automated processes.