Activate and Register Fortigate: If you're typing this, you probably have your appliance in hand and need to know how to activate and register your Fortinet firewall licences.
But more than just registering, you need to know how to make sure you do it right and, of course, get down to business.
Summary
In this post we will help you understand the main steps you need to take to activate your Fortigate firewall.
So, let's go!
Step-by-step guide to activating FortiGate
You must first receive an email containing licensing information. This email contains a pdf file and must be opened by your Fortinet Partner.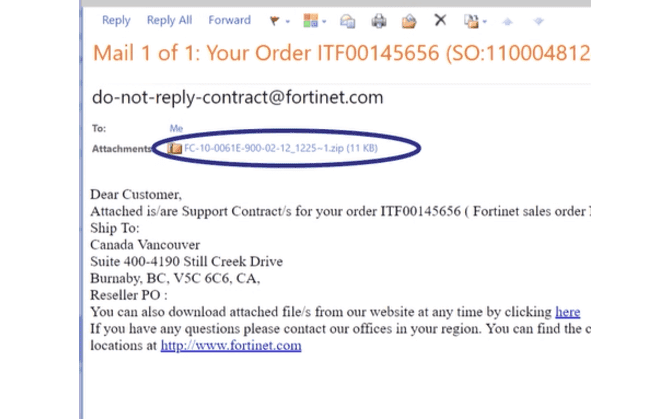 To start enabling FortiGate, first log in to the firewall console. It will open in your home screen (the dashboard). On this screen, you will immediately see the status information and activation of your firewall, as shown below: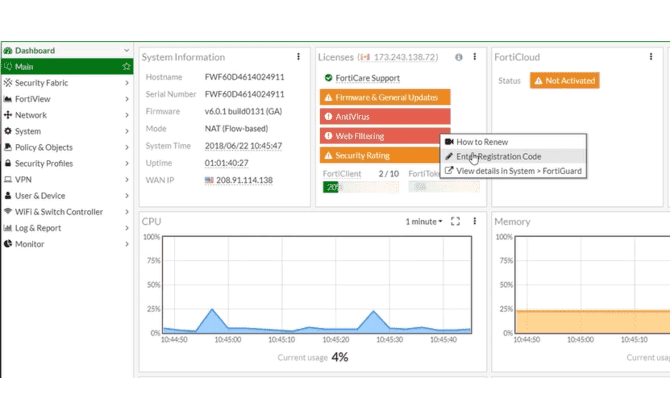 Still on this screen, click on Licences and note the pop-up with the option to "Enter Registration Code", in other words, enter the activation code and click again.
The FortiGate registration code is a unique string of characters required to activate and register FortiGate security appliances, which are firewall and network security products developed by Fortinet. These appliances are designed to protect enterprise networks from cyber threats and ensure a secure environment for information exchange.
Open the file contained in the email sent by your Fortinet Reseller and copy the information from the 'Contract Registration Code' line as shown in the image below: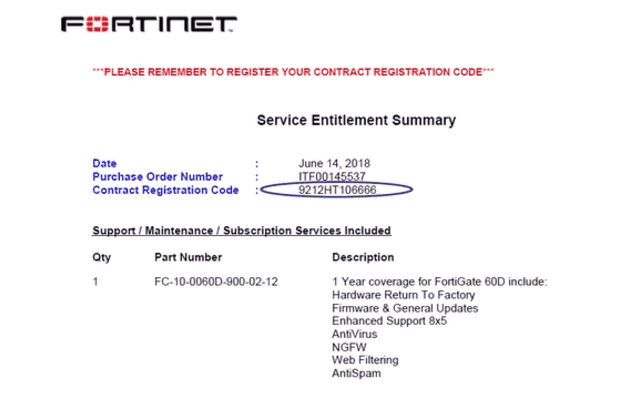 Return to your FortiGate management interface, fill in the required field and press 'OK' as shown below: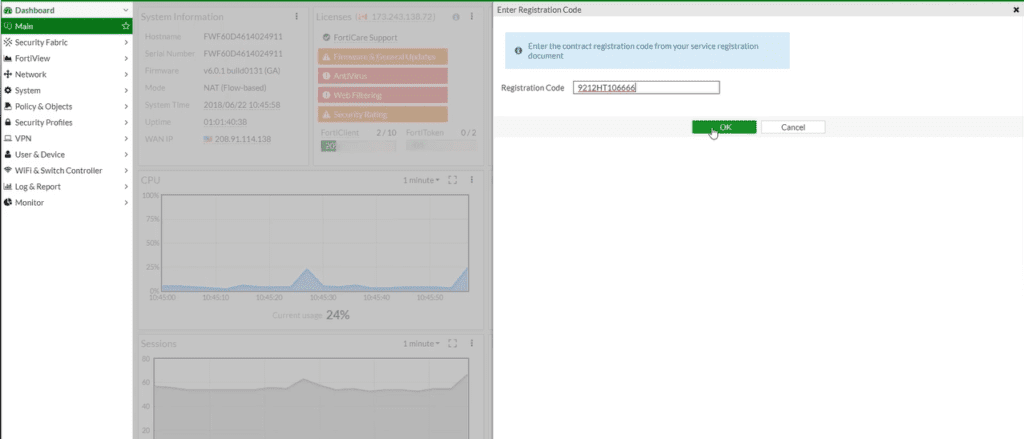 Login to the Fortinet Registration and Support Portal. If you do not know the address, click here to be redirected to the site.
Register Fortigate on the Fortinet Support Portal (

FortiCloud

)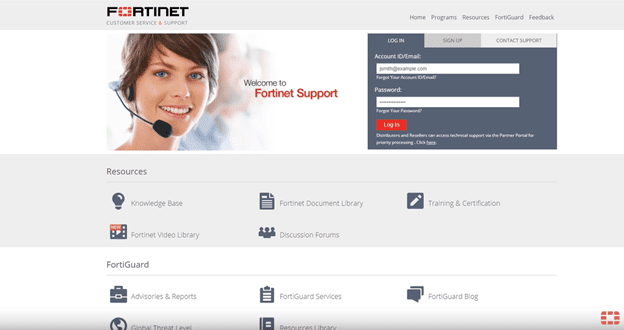 Open your Dashboard again FortiGate e copy the serial number of the equipment. In the following image I have highlighted the field to help:

Visit Fortinet's official website: https://support.fortinet.com.
If you do not yet have an account, click "Register" in the upper right corner and fill in the requested information to create a new account.
After creating your account and logging in, go to the "Assets" section and click on "Register New Product".
Once you have logged into the Fortinet Support Portal as shown in the previous image, click Register/Renew on the HOME page as follows: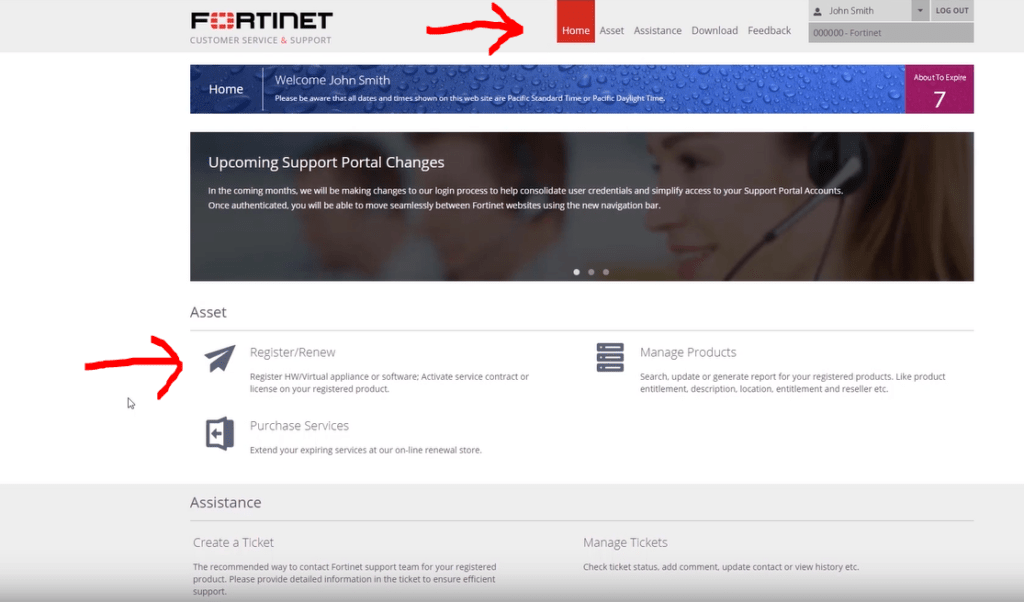 On the next screen, enter the serial number of your FortiGate firewall. This number has been copied as shown in the previous screen and must be pasted as shown below: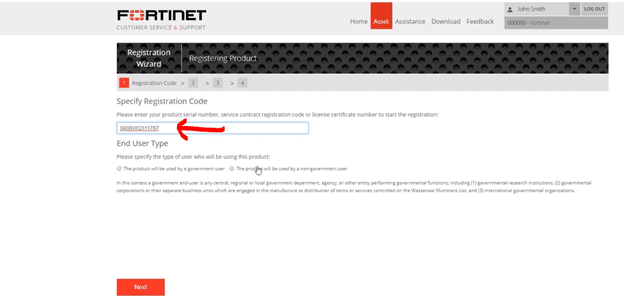 Tick the checkbox of the FortiGate device you just added in the previous step, as highlighted in the image below, and click 'Next'.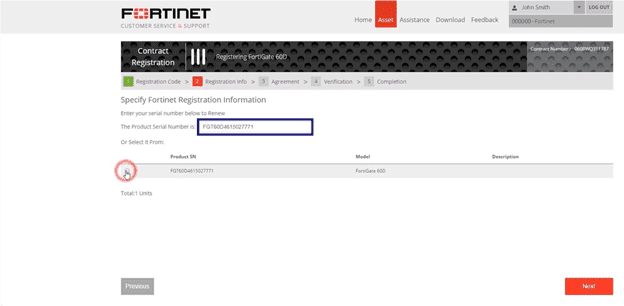 You will be taken to an 'Agreement' page where you will need to read and accept the Fortinet manufacturer's terms and conditions in order to proceed to the final step. Once this is done, click 'Next' again.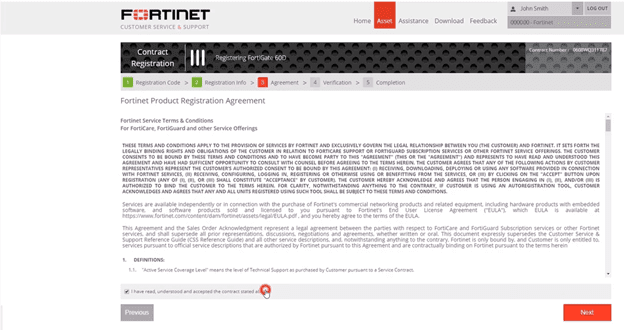 That's it! The procedure for registering the FortiGate Firewall is now complete. Please note that this may take a few minutes to reflect on the firewall.
Bonus
Important tip for successfully activating or registering your FortiGate:
Although information is populated in the portal and on your appliance, FortiGate must have Internet access to synchronize licenses and perform updates.
Once registered, your FortiGate device can receive security, firmware, and technical support updates from Fortinet. In addition, you can manage and monitor your device through the Fortinet support portal.
By: Rodrigo Torres - Forti One IT