Installing FortiGate in NAT mode in a few steps.
Summary
Connecting Network Devices

First, in this example you connect and configure a new FortiGate in NAT mode, in order to securely connect a private network to the Internet.
In NAT mode, you install it as a gateway or router between two networks. Typically, you set up the Firewall between a private network and the Internet, since it allows the FortiGate hide the private network's IP addresses using NAT.
Consequently, NAT mode is the most commonly used operational mode in implementations.
At first, to edit the Internet-oriented interface (in the example, wan1), go to Network> Interfaces.
Second, set the estimated bandwidth for the interface based on your Internet connection.
Also, set the role to WAN.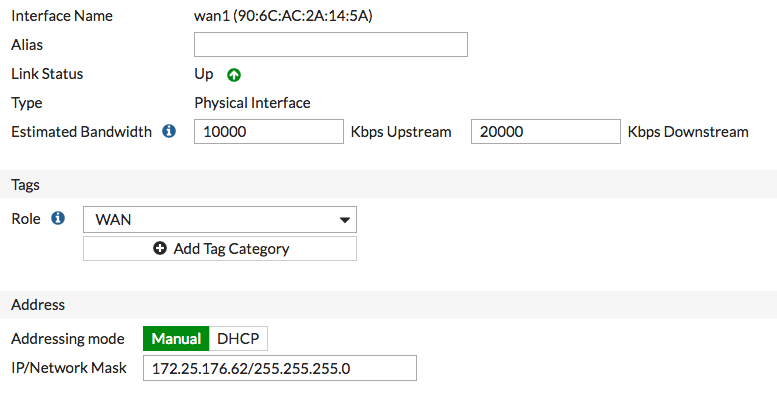 Important Steps
First of all, to determine which addressing mode to use, check if your ISP provides an IP address for you to use, or if the ISP equipment uses DHCP to assign IP addresses.

Whereas if your ISP provides an IP address, set the addressing mode to Manual and set the netmask / IP for that IP address.
On the other hand, if your ISP machine uses DHCP, set the Addressing mode to DHCP to allow the machine to assign an IP address to the WAN1.

Edit the lan interface, which is called internal on some FortiGate models.
Set the function to LAN.
Set the Addressing mode to Manual and set the netmask/IP as the private IP address you want to use for the FortiGate.
Still, if you need to assign IP addresses to the devices on your internal network, enable the DHCP Server.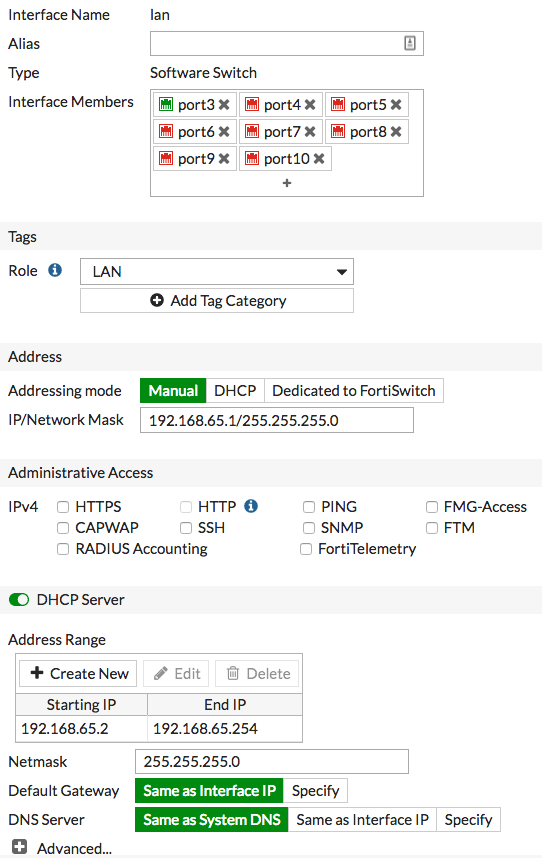 Adding a default route
Adding a default route in FortiGate Firewall
To create a new default route, go to Network > Static Routes . Normally you have only one default route. If the list of static routes already contains a default route, you can edit it or delete the route and add a new one.
Set Destination to Sub - network and leave the destination IP address set to 0.0.0.0/0.0.0.0.
Set Gateway to the IP address provided by your ISP and Interface to the Internet interface.