The 6 reasons why Fortinet Secure SD WAN is the Right Choice:
According to the Gartner there is a prediction that "25% of enterprises will adopt the SD WAN in the next two years". Yet what is gained from the performance and convenience of the SD WAN over the traditional WAN comes largely at the expense of the centralized security provided by backhauling network traffic through the data center, where everything can be checked and filtered in a single location.
Advanced security: The Secure SD WAN from Fortinet has state-of-the-art security features, including next-generation firewall, intrusion detection and prevention, URL filtering, encryption, and more.
Optimized connectivity: With Secure SD WAN from Fortinet, businesses can make the most of their connectivity, including utilizing multiple network connections and optimizing data traffic.
Simplified management: The solution is centrally managed, allowing companies to easily manage their networks and security appliances from a single location.
Flexibility: Fortinet's Secure SD WAN is highly customizable and scalable, allowing businesses to tailor the solution to their specific needs.
Cost reduction: By using multiple network connections, Fortinet's Secure SD WAN helps enterprises reduce their bandwidth costs and increase network efficiency.
Adoption Made Easy: With Gartner predicting that 25% of enterprises will adopt SD WAN in the next two years, Fortinet's Secure SD WAN offers an easy to adopt and deploy solution for enterprises looking for a secure and efficient WAN solution.
Summary
Secure SD WAN
Fortinet's Secure SDWAN solution is ideal for distributed network architectures.
When it comes to maintaining the security of operations across multiple branch offices and remote sites, choosing the right SD WAN solution is extremely important. Fortunately, SD WAN offers all the essential capabilities to maintain security. Here are six reasons why Fortinet's Secure SDWAN is the most appropriate choice for companies that want to keep their operations secure and efficient at remote locations.
Fortinet SD WAN Networks
Fortinet SD WANs are software-defined networking solutions that provide secure and reliable connectivity for businesses with branch offices and remote sites. These distributed network solutions allow businesses to easily manage their network from a centralized location, reducing costs and increasing network efficiency.
With advanced security and management features, Fortinet SD WAN networks are ideal for enterprises looking for an efficient and secure solution to manage their distributed network infrastructure.
The adoption of cloud applications is one of the main drivers for the need for superior networking capabilities. The router or firewall responsible for SD WAN connectivity needs to intelligently balance Internet and intranet traffic across all available WAN services.
In order to support our customers, we have listed below the main reasons why Secure SD WAN Fortinet is the right choice: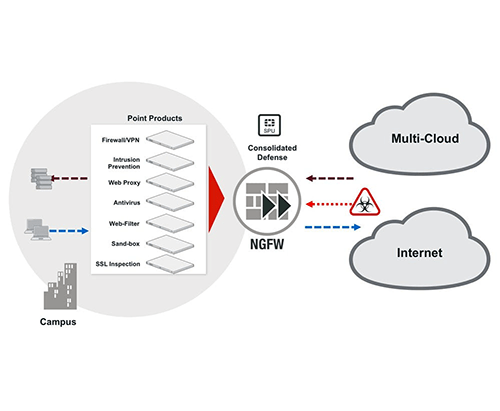 Scalability
With the FortiGate Secure SD WAN, enterprises can enjoy fast, scalable, flexible and secure access both on-premises and in the cloud. The SD WAN solution is a great choice for enterprises that value security, prioritize the cloud, and have hybrid workforces.
Security
Next Generation Firewall (NGFW) security layer.
O FortiGate Next Generation Firewall (NGFW) is a single solution that offers best-in-class integrated SDWAN networking and security capabilities in a single device. It also provides an all-in-one solution with SD WAN-ready capabilities, enabling enterprises to efficiently adopt public cloud applications. Here are some of the key features of FortiGate NGFW:
Flexibility and Control
Centralized console management and policy customization for your network environment.
While capable of extending the full range of security features with each new network connection (wired or wireless), SDWAN must be fully managed from a central location. See how Fortinet Secure SDWAN enables this:
Non-Contact Implementation
Device provisioning and branch deployments, done automatically (without the need to send qualified network engineers to every site), as a result save a lot of time compared to the processes involved in adding branches in traditional WAN environments.
See how Fortinet's Secure SD-WAN simplifies this entire process:
In summary, FortiOS dynamically creates the entire physical and logical network topology when FortiGate is launched.
Cost-effective
Low Total Cost of Ownership (TCO) and considerable reduction in operating expenses.
Less expensive connectivity, simplified deployment and centralized management through a single solution for network and security operations as they provide a better 50% total cost of ownership than architectures with separate network and security appliances.
Detection and Remediation
Cyber security goes beyond preventionbecause it is impossible to prevent all attacks. It makes detection and the remediation.
It is critical to have a security solution like Secure SDWAN from Fortinetwhich provides high performance and effectiveness with a great cost-benefit ratio.
(O FortiGate was indicated by his optimum performance e security in the 2017.3 NSS Labs Next-Generation Firewall test results)
Get started today
The time has come to move to SD WAN. Organizations that do not make this change put themselves at a competitive disadvantage. The benefits are tangible and achievable with the right technology choice.
And Secure SDWAN from Fortinet offers the best in networking and security capabilities and a
only solution.